Learn to grab people's attention & move them to act
Your readers are bombarded with the data equivalent of 174 newspapers — ads included — every day, according to a study by USC's Annenberg School for Communication.
In this environment, how do you grab readers' attention and move them to act?
"My mind was blown in the first hour."
— Kelly Whitman, senior marketing specialist, Magna International
Read more rave reviews
In writing coach Ann Wylie's online course, you'll learn the art of persuasive writing — how to get readers to pay attention to your message, understand it, remember it and act on it.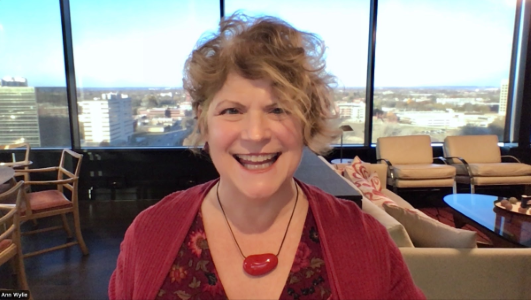 Agenda
In this training, you'll learn to write persuasive communications that move your audience to act. Specifically, you'll learn how to:
Think Like a Reader

How do you write social media and other messages that grab a group of people's attention and move them to act? One secret to reaching readers is to position your message from your audience's point of view.

In this session, you'll learn a four-step process for finding your voice and making your message more relevant, valuable and rewarding to your audience. Specifically, you'll learn how to:

Cut through the clutter of completing messages with the formula people use to determine which messages to pay attention to.
Boost audience interest in your message with the two rewards of reading.
Position your writing and strategy with the No. 1 question to answer on your reader's behalf.
Focus your message on the value to the audience with a two-minute perspective shift that will
Make your message more relevant to readers with the most popular word in the English language (Hint: It isn't free or sex!)

Master a Better Structure

What is the structure of persuasive writing?

It's not the inverted pyramid. The pyramid has been proven in the lab to reduce readership, understanding, engagement and action, according to research by the Reuters Institute and others.

In this session, you'll learn to organize persuasive messages using a structure that's been proven in the lab to outperform the traditional news structure. Specifically, you'll learn how to:

Organize your message to grab readers' attention, keep it for the long haul and leave a lasting impression
Try three effective elements of a great lead — and five leads to avoid
Stop bewildering your readers by leaving out an essential paragraph. (Many communicators forget it)
Avoid the "muddle in the middle"
End with a bang with our three-step test

Cut Through the Clutter

Readability helps everyone — those with high literacy rates as well as low, according to new research by the Nielsen Norman Group.

When you make your writing easier to read, your audience members will read it faster, understand it better and enjoy it more. Specifically, you'll learn how to:

Find the right length for your paragraphs … your sentences … your words
Hit the right word count — for humans as well as for Google
Avoid causing your reader to skip your paragraphs
Quantifiably improve your copy's readability using a free tool (You probably already have it, but you might not know it)
Make your copy clearer and more concise with a seven-step system

Reach Readers Where They Look

Even highly educated scientists read, on average, only 20% of the words on a webpage. So how can you craft messages that reach nonreaders?

In this program, you'll learn how to pull readers into your message, make your piece more inviting and even communicate to flippers and skimmers. Specifically, you'll learn how to:

Reach "readers" who spend just seconds looking at with your piece
Craft the piece of display copy that 95% of people read — but that many communicators drop
Reach flippers and skimmers and other nonreaders by running a simple test on your message
Make your message more reader friendly by using the palm of your hand
Write better headlines, decks and other pieces of display copy
Live Editing Sessions
Put the "master" in the Master Class by practicing and perfecting the skills you learn in the workshop. You'll:
Master the techniques you've learned in two-minute practice sessions, then get Ann's award-winning ideas for improving your work.
Work with your peers to turn lame digital marketing pieces into high-quality content, then find out what Ann would do.
Get written feedback on your own work from your colleagues.
Watch Ann transform your work in live editing sessions in class.
Master the techniques writing coach Ann Wylie has used to earn more than 60 communication awards, including two IABC Gold Quills — the Pulitzer Prizes of business communications.
"Digging into the nitty-gritty and pulling apart our writing samples word by word taught me a lot."
— Cristin Zegers, PR consultant, Cathey Communications
Logistics — NEW FORMAT!
Learn at your own pace, at your convenience.
Spend more time with Ann on live editing and coaching sessions.
Learn with a community of like-minded communicators.
Class runs from April 28 through May 26.
Weekly trainings. Access weekly trainings at your convenience, starting:
April 28: Think Like a Reader
May 5: Think Outside the Pyramid
May 12: Cut Through the Clutter
May 19: Reach Readers Where They Look
May 26-June 26: Continue to polish your skills with access recordings of all sessions — including live coaching and editing calls — and the LinkedIn Group Page
Weekly live coaching and editing sessions. Mark your calendars for live one-hour coaching and editing sessions with Ann at noon Central on:
May 5: Think Like a Reader
May 12: Think Outside the Pyramid
May 19: Cut Through the Clutter
May 26: Reach Readers Where They Look
Fees
Please learn about our cancellation policy and more in our FAQ.
"The best writing training I've ever taken. The best online training I've ever taken."
— Alex Smith, PR and marcomms manager, Connected Places Catapult
APRs: Earn 4 accreditation renewal credits.
Save up to $100 with our group discounts.