Learn to draw people in and move them to act
It's the art of persuasive writing: If you want to Catch Your Readers, you need to think like a reader. Then you need to use the bait your reader likes, not the bait you like.
Problem is, many of the writing processes we've institutionalized in communications are not the bait the reader likes. In fact, some of the standards in the communicator's repertoire are more likely to hinder than help your chances at getting the word out.
"I have been a journalist for 30 years, published more than 10,000 times, and I have learned more about writing in the past two days from Ann than I have in all that time. I so needed this!"
— Jim Masters, internal communications specialist, Accenture
Read more rave reviews
In writing coach Ann Wylie's persuasive-writing workshop, we'll debunk destructive writing myths. You'll leave with scientific, proven-in-the-lab techniques for getting people to pay attention to, understand, remember and act on your messages.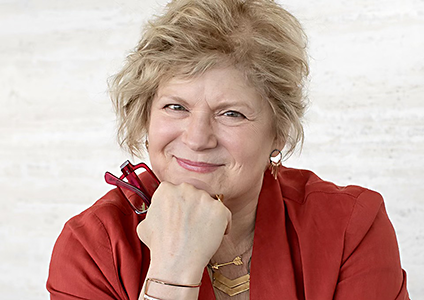 Agenda
In this workshop, you will learn how to:
Think Like a Reader

Steal techniques from prominent twentieth-century Americans including Martin Luther King Jr., John Kennedy, Margaret Chase Smith, Ronald Reagan and Barack Obama for engaging in civil discourse and defending compelling arguments.

You'll learn a four-step strategy for finding your voice and writing from the readers' point of view. This ability will help you engage your readers and move them to act. Specifically, you'll learn how to:

Take advantage of the formula readers use to decide what to read.
Tap 2 rewards of reading to boost interest in your message.
Answer the No. 1 question your reader is asking about your piece.
Make a 2-minute perspective shift to focus your message on reader value — not on "us and our stuff."
Use a 3-letter word that magically increases relevance to your readers.

Master a Better Structure

Writers say, "We use the inverted pyramid because readers stop reading after the first paragraph." But in new research, readers say, "We stop reading after the first paragraph because you use the inverted pyramid."

Indeed, our old friend the inverted pyramid hasn't fared well in recent studies. Research shows that the traditional news structure reduces readership, understanding, sharing, engagement and action.

In this session, you'll learn a structure that's been proven in the lab to grab readers' attention, pull them through the piece and leave a lasting impression. Specifically, you'll learn how to:

Pull readers in with our checklist of good lead approaches.
Stop bewildering readers by leaving out a key paragraph.
Avoid the "muddle in the middle" with our menu of structural approaches.
Draw to a satisfying conclusion in the penultimate paragraph.
End with a bang, not a whimper, by using our three-step test.

Cut Through the Clutter

Is your copy easy to read? According to communication experts, that's one of the two key questions people ask to determine whether to read a piece — or toss it.

Fortunately, academics have tested and quantified what makes copy easy to read. Unfortunately, that research virtually never makes it out of the ivory tower and into the hands of writers who could actually apply it.

But you'll leave this session with readability targets to hit to reach all of your audience members, tools to measure your copy's readability and techniques for hitting those targets. Specifically, you'll learn how to:

Apply a 6-step system for measurably boosting readability.
Use a cool, free tool to measure and manage reading ease.
Figure out how long your message really should be.
Hit the targets. What's the best length for paragraphs? Sentences? Words?
Increase reading by hitting one key on your keyboard more often.
Plus: How to use ChatGPT to write persuasively

Reach Readers Where They Look

"Readers" don't read. Even highly educated web visitors read fewer than 20% of the words on a webpage. So how do you reach "readers" who won't read your paragraphs?

In this session, you'll learn how to put your messages where your readers' eyes really are — to use your display copy to pull readers into your message, make your piece more inviting and even communicate to flippers and skimmers. Specifically, you'll learn how to:

Communicate to people who spend just 2 minutes with your piece.
Get the word out to those who read 20% of the words on the page.
Avoid dropping the piece of display copy that 95% of people read.
Make sure people get your key ideas without reading the paragraphs.
Increase readership by making your message look easier to read.
I'm ready to boost my persuasive-writing skills!
I'd like to:
Questions? Contact Ann.
"Amazing! I learned more in two days than I did in all my college classes combined. I feel so much more confident in writing pieces that work!"
— Katie Johnson, public relations manager, Iowa Soybean Association