Learn to write effective social media posts, other content marketing pieces
How do you triple readership for your social media post? Get people to read 520% more of your content marketing piece? Increase shares, likes and followers?
Content writers: Would you like to learn how to:
Write content pieces that readers want to read?
Get your message across even to nonreaders?
Improve the user experience — as well as analytics — with your posts?
Learn targets for the most effective length of blog posts, mobile headlines, paragraphs, sentences and words?
Stop reinventing the wheel on the popular types of content marketing pieces with fill-in-the-blanks templates?
Measurably boost your online-content writing skills with proven-in-the-lab techniques and award-winning writing feedback?
"The article I rewrote in Ann's Master Class got nearly three times the average page views for our intranet homepage stories. It was the second-most read story of the year."
— Michelle Esso, senior communications staff writer, Baker Law
Read more rave reviews.
If so, then writing coach Ann Wylie's Get Clicked, Liked & Shared content marketing course is designed for you. Ann will teach you how to write content that wins rave reviews, gets bottom-line business results — and propels you forward on your career path.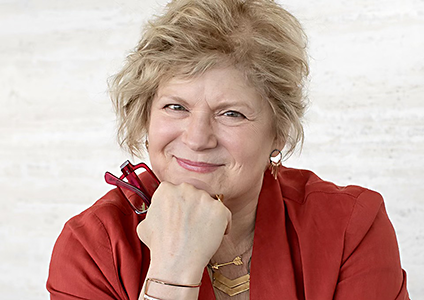 Agenda
In this workshop, you will learn how to write content that reaches more readers and gets the word out.
Think Like a Friend, Fan or Follower

Watch your social media marketing reach and influence grow when you deliver relevant, valuable, useful content. Specifically, you'll learn how to:

Position your company as the expert in the field and draw readers in with news they can use to live their lives better
Make sure your status updates are welcome guests, not intrusive pests, by passing the 70-20-10 test
Tap the power of the most-retweeted word in the English language. And avoid the one topic nobody wants to read about
Understand why 7 steps is better than 10 tips in your blog post headline
Identify your next winning blog-post topic using latest trends in voice search
Plus: How to use ChatGPT prompts to write blog post

"Ann turned my world upside down! Her workshop was incredibly valuable. I can't wait to take what I learned back to my team!"

— Justine Cleghorn, communications advisor, Affinity Credit Union

Build Better Blog Posts

Master a structure that's been proven in the lab to attract 300% more readers; increase sharing; boost readership, understanding, engagement, interest, satisfaction and more. Then use this "master recipe" to:

Write a great survey story using our easy, annotated template
Craft a tipsheet that almost writes itself with our simple formula
Write a great case study: It's easy with our annotated example
Draw readers in with leads that use creative writing techniques that readers love
Master a structure that has been proven in the lab to boost reading by 520% — and that also boosts sharing
Plus: How to use ChatGPT to write a blog post

"I'm changing up our internal blogs formatting on Monday."

— Alex Horsey, internal communications coordinator, Ruby Receptionists

Cut Through the Clutter Online

Whether your writing includes blog posts, social media posts or other web content, you'll analyze your readability with a free tool. Then you'll learn how to:

Hit the right targets: What's the most effective length of a content marketing piece? An online paragraph? A sentence? A word?
Get a paragraph-by-paragraph analysis of your piece to identify the best opportunities to radically increase readability
Entice visitors to read more of your story by hitting one key on your keyboard more often
Learn how long your post should be — for your blog, Facebook and Twitter
Avoid the one unsharable punctuation mark
Plus: How to use ChatGPT to write an article

"I found the research shared extremely valuable because it helps me to make my case at work for shorter online copy. The templates are also very useful because they'll save me time and help me to keep my content focused and structured."

— Gordana Goudie, communications officer, Georgia Tech Professional Education

Reach Readers Where Their Eyes Are

Most web visitors spend, on average, fewer than 15 seconds on a page, according to Chartbeat. Get your message across even to nonreaders:

Write better listicles with our 6-step list-writing makeover
Tear down obstacles to reading your post by passing the Palm Test
Learn a simple search engine optimization approach that will help you get found while producing high-quality content
Craft creative headlines that also get found on search engines
Don't drop the one element that most readers read … but that most writers skip

"The information about how people read and process information (or don't!) will help me make the case to leaders and communicators who are reluctant to change."

— Wendy Sauvageot, communications lead, internal communications, Department of Defense
I'm ready to boost my persuasive-writing skills!
Whether you're learning content writing, technical writing or business writing, you can boost your skills at writing online in Ann's content-writing courses:
Questions? Contact Ann.
"I loved this workshop and learned so much. Ann packed every minute with valuable insights and useful information. I appreciate that Ann backs up her lessons with data and research. She consistently provided relevant advice that I can use immediately."
— Katie J. Skipper, community content manager, BECU