Improve your team's writing skills with Ann Wylie's writing workshops
Hi! I'm Ann Wylie, and I feel your pain.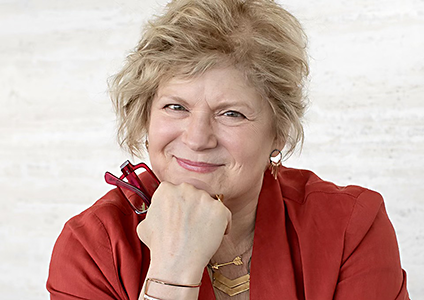 For 20 years, I've traveled from Hollywood to Helsinki, presenting in-house writing workshops to hundreds of organizations, ranging from Coca-Cola to General Dynamics to NASA to Toyota. I've trained thousands of PR, marketing and communications professionals. And I've talked to hundreds of vice presidents, directors, managers and other communication team leaders.
"Ann is one of the few people who can actually teach something substantial about writing."
— George Stenitzer, vice president of corporate communications, Tellabs
They all tell me the same thing: Excellent writing is the No. 1 skill they need in order to deliver bottom-line business results to their organization. And that's the hardest skill to find or develop.
Maybe you have folks who can crank out communication plans in their sleep. You never have to worry about keeping social streams filled. But they can't write sophisticated messages that engage readers' hearts and minds and that move people to act.
Or maybe your team members can craft a compelling argument, tell a story that could bring you to tears and hit aggressive readability targets with ease. But they haven't kept up with the latest best practices in blog-post writing, email marketing, writing for the mobile web or digital PR writing.
Or your maybe writers are great. But your approvers wouldn't know good writing if it bit their ankles, and your team is starting to write for reviewers, not for results.
"Hire Ann. It's the quickest way to enhance the effectiveness of writing in your shop. We recently hosted a Master Class by Ann and are already reaping the benefits of our investment."
— Candace Steele Flippin, executive vice president and chief communications officer at First Horizon National Corporation
The good news is, there is a solution: Build better writing skills with in-house training, coaching and writing tools. Then gain control of the approval process with proven-in-the-lab best practices and the research you need to back them up.
Let me help you do both.
Data-driven writing training
Let's hold an in-house writing workshop to help your team members master proven-in-the-lab best practices.
I'm a nerd. While you're out and about on a Friday night, I'm likely to be cuddled up with a warm study. The result: I've developed a system of data-driven techniques that get readers to 1) pay attention to your message; 2) understand it; 3) remember it; and 4) act on it.
"Ann just completed her second workshop at The Coca-Cola Company, and the feedback has been outstanding. People have been telling me her course has changed the way they think about writing forever. If your team members use words, they will benefit immensely from spending two days with Ann. You leave an instantly better writer, with new skills you can apply that same day."
— Mike Phifer, senior director, global corporate reputation, The Coca-Cola Company
How do I know my system works? It's the same approach I've used to earn more than 60 communication awards, including two IABC Gold Quills — the Pulitzer Prizes of business communications.
In our writing workshop, your team will learn to:
Find the story angle their readers want to read
Use a story structure that increases readers by 300% and reading by 520%
Write paragraphs that don't get skipped on smartphones
Get the word out in the 11 seconds people typically spend on brand emails
Craft releases that are among the 3% to 45% that actually get used
Tell stories that engage readers, build your brand and support your corporate identity
Create speeches that get your executives invited back to conferences — not leave them wishing they could give up public speaking forever
And much, much more!
Polish your writing skills today
Learn to write more persuasive, engaging content with our:
In-house writing classes. Get your whole team on the same page when you bring Ann in via Zoom for customized 6-hour workshops (90 minutes a day for four days) and 10-hour Master Classes (two hours a day for five days).
Public writing workshops. Learn new techniques and get coaching and live editing from Ann at our communications-, PR- and marketing-writing Master Classes.
On-demand training. Boost your skills in specific topics with our on-demand webinars. Up-level on your own or train your whole team with a group license.
Questions? Contact me directly.
Ready to improve your team's writing skills?