Learn to write better webpages
More than half of your audience members now receive your emails, visit your webpages and engage with your social media channels via their mobile devices, not their laptops.
Problem is, reading your webpage on a smartphone is like reading War and Peace through a keyhole.
People spend half as long looking at webpages on their mobile devices as they do on their desktops. But they read 20% to 30% slower online.
It's 48% harder to understand information on a smartphone than on a laptop.
They click 40% less often on mobile, thanks to fat-fingers/no-bars syndrome.
"After using Ann's headline-writing techniques, we saw the clickthrough rate on our featured video increase by 434% to 821%."
— Cindy Javelet, communication coordinator, City of Arvada
Read more rave reviews.
In fact, the folks at the Nielsen Norman Group have identified 335 obstacles to reading on a smartphone that don't exist when reading on a laptop. No wonder Jakob Nielsen says, "The phrase 'mobile usability' is pretty much an oxymoron."
In this environment, how do we reach readers online?
At writing coach Ann Wylie's web-writers' workshop, you'll learn how to:
Get To the Point Faster: Because web visitors spend 74% of their time on the first two smartphone screens
Master Webpage Structure: Learn a new organizing plan that's been proven in the lab to be more effective than the form you're using now
Cut Through the Clutter Online: Because "short is too long for mobile"
Lift Ideas Off the Mobile Screen: Reach nonreaders with display copy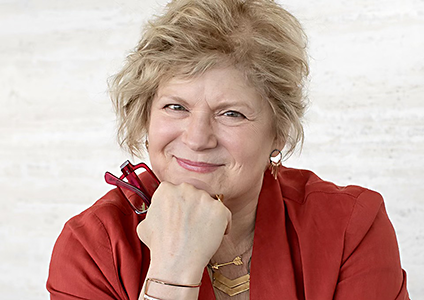 Agenda
In this workshop, you will learn how to:
Get To the Point Faster

You know that web visitors pay more attention to the copy "above the fold," or on the first screen, than below it. But where's the fold? Web content that shows up above the fold on a 30-inch monitor can take as many as five screens on a smartphone.

So how do you reach readers where their eyes are?

In this session, you will learn how to:

Stop dropping the best-read element on your webpage. Some 95% of web visitors look here; 95% of web writers leave it off the page.
Don't get your head cut off. Chances are, your headline is at least 150% longer than the recommended maximum for mobile.
Write headlines that get the word out with our five-step test.
Avoid burying your message. Web visitors don't read your whole headline. So how many characters do they read?
Practice SEO like a pro. And try out a cool tool that almost does the job for you.
Plus: How to use ChatGPT to write copy for websites

Master Web Structure

Writing content will be a breeze once you learn Ann's structure. It's been proven in the lab to increase reading, understanding, engagement, satisfaction and sharing.

In this session, you will learn how to:

Write effective content easily with our fill-in-the-blanks structure. It just takes five easy pieces.
Increase reader engagement by choosing from four types of web leads to try — and avoiding three losers.
Put your story into a nutshell so readers know where you're taking them.
Increase readership with a piece of cake. Get people to read more of your content by adding one simple element to your webpage.
Draw readers into your web content when you learn where to use creative writing.

Cut Through the Clutter Online

It's 48% harder to understand information on a smartphone than on a laptop. So how do you make your writing style easy to understand — even on the small screen?

In this session, you'll learn how to:

Avoid The Mobile Paradox: The No. 1 activity for mobile users is wasting time. But mobile users get "visibly angry" at verbose sites that waste their time. How do you avoid enraging readers?
Write shorter pages. Because, according to the BBC, "Short is too long for mobile."
Pass the 1-2-3-4-5 Test for paragraph length. Because mobile web visitors can't understand long paragraphs.
Use a cool, free tool for measuring and managing readability.
Find out how long is too long — for mobile paragraphs, sentences and words.

Reach Readers Where They Look

Web visitors read, on average, 20% of the words on the page. But which words — and how can you put your messages there?

In this session, you will learn how to:

Reach nonreaders with words with our simple Skim Test.
Help visitors understand your webpage better, read it faster and enjoy it more by passing The Palm Test.
Write links that get scanned and clicked — even despite Fat-Fingers/No-Bars Syndrome — on mobile.
Transform lists into free-standing information packages with our simple, six-step process.
Break down walls of words to boost understanding, memory and satisfaction — in half the reading time.

Plus: Live Editing Sessions

Put the "master" in the Master Class by practicing and perfecting the skills you learn in the workshop. You'll:

Master the techniques you've learned in two-minute practice sessions, then get Ann's award-winning ideas for improving your work.
Work with your peers to turn lame digital marketing pieces into high-quality content, then find out what Ann would do.
Get written feedback on your own work from your colleagues.
Watch Ann transform your work in live editing sessions in class.

Master the techniques writing coach Ann Wylie has used to earn more than 60 communication awards, including two IABC Gold Quills — the Pulitzer Prizes of business communications.
"I love how interactive it was and that we went through real-life examples of others' work."
— Elyssa Bernstein, communications specialist, Commonwealth Partnerships
Location & logistics
Join us LIVE via Zoom and LinkedIn from noon to 2 p.m. Central on:
Oct. 23: Get To the Point Faster
Oct. 24: Master Web Structure
Oct. 25: Cut Clutter Online
Oct. 26: Reach Readers Where They Look
Oct. 27: Live Editing Session; SEO
Can't make a date? You'll have on-demand access to the online workshop until Nov. 23.
Fees
(Looking for a different topic? Prefer an in-house workshop?)
Please learn about our cancellation policy and more in our FAQ.
"Simply life changing."
— Jose Romero, technical product manager, NXP Semiconductors
Save up to $100 with our group discounts.