'How to Use ChatGPT to Write' workshop
Bring human intelligence to artificial intelligence to write better and faster
You've read the headlines:
"Google Tests A.I. Tool That Is Able to Write News Articles." It's hard not to worry that artificial intelligence is coming for your job.
"AI Boosts Writing Productivity by 59%" (MIT). Could you get all your work done in half the time, write better messages and go home early?
"ChatGPT Invented Everything in Lawyer's Court Brief." Could using AI to write cost you your job and reputation?
AI is clearly an opportunity for and a threat to communicators. Learn how to take advantage of the opportunities — while avoiding the threats — in this workshop.
Team training
Get a customized workshop at your convenience.
Master Class
Build your own skills in a public workshop Nov. 6-10.
What you'll learn
In this workshop, you'll learn how to bring human intelligence to artificial intelligence to write better, easier and faster:
Write 59% faster. People write messages 59% faster and 18% better with ChatGPT than without, according to a study by MIT.
Connect with your audience with better key messages. Yes, a robot can help you relate better to humans!
Avoid plagiarism and issues with privacy, accuracy and ethics. Don't let simple mistakes crash your career and your company.
Write more clearly and concisely. Walk away with prompts based on 130 years of readability research.
Get a robot to create your content calendar. This quick hack will also help you boost your mobile search rank.
Avoid sounding like a robot. Don't let your audience members respond to your message, "Thanks, ChatGPT!"
Add more value to your messages. You don't have time to read 10 studies before writing a blog post. ChatGPT does!
Write better headlines with ChatGPT. Learn simple prompts for crafting more compelling news, marketing and social headlines.
Have ChatGPT 'splain it to you. Use this trick to understand your VP of engineering's deck so you can write clearly for readers.
Outwrite a robot. ChatGPT is a terrible writer! Build your own writing skills to make AI your new BFF and writing assistant.
Who should attend this workshop
Learn to use AI to write better:
Blog posts
Brochures
Case studies
Content marketing
Corporate communications
Emails
Event invitations
Executive messages
Feature stories, other long-form messages
Internal communications
Magazine articles
Marketing pieces
Newsletters
Press releases, other PR pieces
Proposals
Social media
Storytelling
Webpages
White papers, other lead magnets
About the trainer, Ann Wylie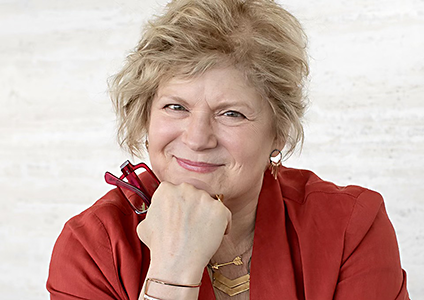 Ann Wylie works with communicators who want to reach more readers and with organizations that want to get the word out.
Ann has earned 60 communication awards, including two International Association of Business Communicators Gold Quills — the Pulitzer Prizes of corporate communications. Now she shares her award-winning techniques with other communicators via her training programs.
Ann's training business has taken her from Hollywood to Helsinki. There, she helps communicators in organizations like Coca-Cola, Toyota, Salesforce and Eli Lilly polish their skills and find new inspiration for their work.
Bring human intelligence to artificial intelligence
Writing with AI isn't just collecting a series of prompts. In this class, you'll polish your own writing skills and knowledge so you can use ChatGPT to write better, easier and faster.
As a result, you'll be able to protect your career, focus on more high-value work, become the go-to person on this essential tool and position yourself for success well into the future.
Don't get left behind!
"Every class I've taken from Ann is just the best. I learn so much. After I've taken a class, I get comments like: 'This is the best thing you've ever written.'"
— Stacy Graves, founder, Word Coaching
Team training
Get a customized workshop at your convenience.
Master Class
Build your own skills in a public workshop Nov. 6-10.